Fretboard Biology is not designed to be flashy and it's not full of hot licks or gimmicks.  What you will find is a professional-level education that was developed over 30 years and teaching thousands of students.
The Knowledge without the College
The core FRETBOARD BIOLOGY program is divided into eight levels. This is a college-level guitar program and will take time and dedication to complete. Unlike other college programs, FRETBOARD BIOLOGY is affordable, and you can work through each Level at your own pace, and because it is online, you can study anytime day or night, and from anywhere in the world.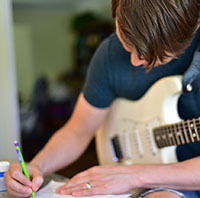 >

FRETBOARD

BIOLOGY

is a Highly Organized System
of guitar education that will help you master the theoretical and practical aspects of guitar necessary to play at a professional level. It provides a comparable education to some of the world's top music schools.  This is not a huge library of random guitar videos. It is a thorough, step-by-step curriculum designed to help you maximize your potential as a guitar player.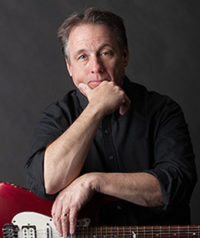 >

The FRETBOARD

BIOLOGY

Curriculum
was developed over a lifetime of teaching thousands of students how to play guitar.  As the Vice President of Education at Musicians Institute, and Department Head of the Guitar Program at Guitar Institute of Technology (G.I.T.) in Hollywood, and the Department Head of the Guitar Program at McNally Smith College of Music, I have seen students struggle when material isn't presented in an organized and methodical way.  Too many guitar players never reach their potential because they have never been taught the right things, in the right amounts, and in the right order. 
This program will provide a common-sense approach to learning music and being a better guitarist.  It will demystify the guitar neck and give you the ability to understand what is happening musically during a performance.  You will learn how to solo with intent and in a way that will move your audience.  You will learn how to play effective rhythm guitar in several musical genres, and how to communicate effectively with other musicians. You will become a more literate musician.
"Fretboard Biology is like a nice cooking course, to me: it's not about learning a few or a lot of great recipes, but simply learning how to cook, given the raw ingredients, no matter what they are. The concepts are easy to digest, and it's fun to explore on my own schedule."
"Joe Elliott has been one of the best LA studio players for years now. His new Guitar Education program will take you to the next level and beyond. If you're serious about your Guitarism...I highly recommend FRETBOARD BIOLOGY."
"My buddy Joe Elliott who ran the guitar department at the McNally Smith College of Music when I was teaching there and who was at GIT many years before that, has busted his tail putting together this unbelievable online guitar course. Basically his college level curriculum available with video lessons that you can work at your own pace in the comfort of your own domicile...perfect timing...says I!!! Dig it!"
If you are serious about your guitar education, there is simply no other program like
FRETBOARD

BIOLOGY
. This is the only program that combines all the benefits of a structured professional guitar program with the low cost and convenience of self-learning. Join the other men and women who are on their journey to becoming great players.